About the Soweto Tours
Soweto has many sons, amongst whom are no less than Nobel laureates former State President Nelson Mandela, easily the most recognisable face on the planet, and Archbishop Desmond Tutu, both of whom were, and in fact still are, tireless and fearless campaigners for human rights and equality during a long and tumultuous battle with apartheid. Usizo Lwenkosi Tours include visits to Vilikazi street, where the homes of these great men still stand.
Your tour of Soweto will also include visits to Kliptown, the oldest residential district of Soweto, and to the Kliptown Museum. Kliptown was also home to, amongst others, the Congress of the People, the ANC and the South African Indian Congress. The 1976 uprising in Soweto calls to mind the iconic image of a dying Hector Pieterson being carried in the arms of a fellow student. The result of police opening fire on protesting students. Your tour will enable you to visit the Hector Peterson Museum.
A visit to Sisulu Square and Regina Mundi, the largest Catholic Church in South Africa also form part of your tour.
A walking tour of Soweto will no doubt be the best way in which to experience these things and the people that provide Soweto with it's life and vibrancy. If however you don't have much time a driving tour will still cover all the major landmarks.
The famous Wandies Restaurant is along the route of the tour as are a number of tuckshops and convenience stores, but bring a bottle of water and sunglasses or cap, especially in the summer or if have opted for the walking tour.
Often the only solid structure is the government built ablution facility, seen here in the background. Soweto is characterised by Johannesburg's working class and unemployed but it is not uncommon for an area to have a mixture of wealthy and poor living side by side. Some of Johannesburg's wealthiest business people live in Soweto. Experience Soweto with Usizo Lwenkosi Tours!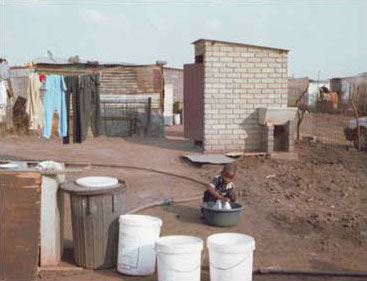 Proof that money does not bring happiness, you will see children playing despite their uncertain financial future. The wealth is in the people, not the houses.
You will also visit the Soweto cooling towers, which have been painted in vibrant colours depicting life in Soweto, and if you are feeling brave you can ask the guide to wait while you bungee jump between the two towers.